We will be closed for the holidays from the 18th December until the 8th January. No orders will be processed between these dates.
Merry Christmas and Happy New Year to all.
Description
LITHIUM BATTERY SALES ARE RESTRICTED TO MAINLAND UK ONLY
YTZ7S case size: 4.53 x 2.75 x 3.35 in (mm: 115x70x85) (LxWxH)
150 Cranking Amps
7 Amp Hours (PbEq)/ 3.3Ah (Actual)
1.3 lbs
Safest Battery Technology using full BMS and Lifepo4 Lithium chemistry
Compatible with 6 OEM battery sizes (see below)
Can be mounted in any orientation
ATZ7-RS
RE-START Series:

 FIRST Batteries with Built-In Jump-Starting!
OEM Size Lithium Battery (Direct Replacement)
Never stranded again… Antigravity Batteries introduces the groundbreaking "RE-START (RS)" line of batteries – the first batteries with built-in jump starting! The revolutionary ATZ-7 RE-START Battery intelligently monitors its status, and just before going completely dead puts itself to sleep with just enough energy to get your vehicle started again. Simply press the RE-START button located on the battery, start your vehicle and drive away… No more dead battery emergencies or being stranded!
The new ATZ-7 Re-Start Battery is an extremely lightweight and high-power Lithium-Ion replacement for the heavy lead/acid battery found in many motorcycles including most every Enduro bike on the market. Additionally, the new ATZ-7 offers the first FULL Battery Management System (BMS) found on a Powersport Battery and includes low-voltage cut-off, over discharge, over-charge, and thermal protections with real time lithium-ion cell balancing. If you want to also track your battery status via Bluetooth, you can use the Lithium Battery Tracker.
RE-START BUTTON
+

4 TERMINAL DESIGN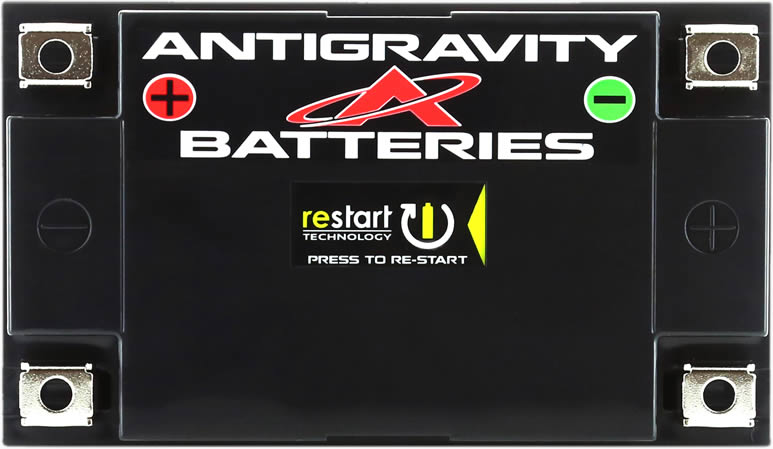 First Motorsports Battery with built-in RE-START & BMS.
New 4 Terminal Design for easy installation in any vehicle.
Most Advanced Lithium Battery on the market.
World's First Battery with Built-in Jump Starting, using our RE-START Technology.
World's First Powersport Battery with a FULL Battery Management System (BMS) including Over-Discharge, Over-Charge*, Thermal Protections and Cell Balancing.
RE-START TECHNOLOGY: The RE-START Battery intelligently monitor its status; if it senses over-discharge it will put itself into a sleep mode, yet saves enough energy to allow you to RE-START your vehicle. Simply press the RE-START button on battery.
LONGER LIFE: Up to twice the lifecycle of lead/acid, and other Lithium batteries due to full Battery Management system.
HI POWER: Up to 2 Times the Cranking Amps of similar sized lead/acid batteries. Better Starting and higher voltage at start-up.
ULTRA LIGHTWEIGHT: Up to 70% lighter than equivalent lead/acid battery. Up to 15 lbs in bikes or 40 pounds in some Race Cars. Carbon Fiber costs thousands to lose a pound of weight; with our LiFePO4 battery a few hundred dollars will lose roughly 8-15 pounds and offers better starting and handling!
NEW 4 Terminal Design allows easy installation in any vehicle. Fits right or left hand Negative or Positive connections. No more looking for the correct Terminal locations in certain bikes.
LOW SELF-DISCHARGE: The RE-START Batteries do not self-discharge like Lead/Acid Batteries. They can hold a charge up to a year provided there are no "Parasitic Drains" (accessories that draw power when bike is off, i.e. alarms, ECUs, GPS, heated grips, and other accessories the vehicle might have).
DURABILITY: Our lithium batteries are shock and vibration resistant making them perfect for Racing, and other applications requiring a durable battery.
MOUNTING: You can mount our battery in any orientation, there are no liquids to spill or drain out.
ENVIRONMENTALLY SAFER BATTERY: No Acid or Heavy Metals such as Lead, Cadmium, or Mercury.
(*Over-Charge protection will not protect from a faulty/old Voltage Regulator spiking Hi-Voltages to Battery. If you have a Pre-1990s Motorcycle replace your voltage regulator; it is over 25 year old and most likely broken by now.)
For replacement of all OEM Lead/Acid Batteries of same size.
Capable of every day Street use in bikes up to 450cc.
Great for Enduro and MX electric start bikes up to 450cc.
Race and Track Day use in 4-Cylinder 600cc sport bikes.
Custom builds like cafe racers or small bore customs up to 500cc.***
The lithium ATZ-7-RS is a direct replacement for these OEM battery sizes:
YTX4L-BS
YTX5L-BS
YTX7L-BS
Only logged in customers who have purchased this product may leave a review.