We will be closed for the holidays from the 18th December until the 8th January. No orders will be processed between these dates.
Merry Christmas and Happy New Year to all.
Description
LITHIUM BATTERY SALES ARE RESTRICTED TO MAINLAND UK ONLY
Small Case format
4.5″ x 3.25″ x 5.25″ (mm: 114x83x133) (LxWxH)
480 Cranking Amps
22 Amp Hours (Pb Eq)/11 Ah (Actual)
3.18 lbs
Can be mounted in any orientation
Antigravity AG-1601
Small Case Lithium 12v Powersports Battery
The Antigravity AG-1601 is an ultra compact 16-Cell battery: only 4.5 x 3.25 x 5.25 inches (LxWxH to top of terminals) and 3.18 lbs yet has massive power. It can turn over many of the larger V-Twin motors up to 113 cubic inches. This lightweight motorcycle battery is often chosen for Custom V-Twins where small size is needed, and by Adventure bikers who want more power and capacity. AG1601 is also a favorite for Race Car use.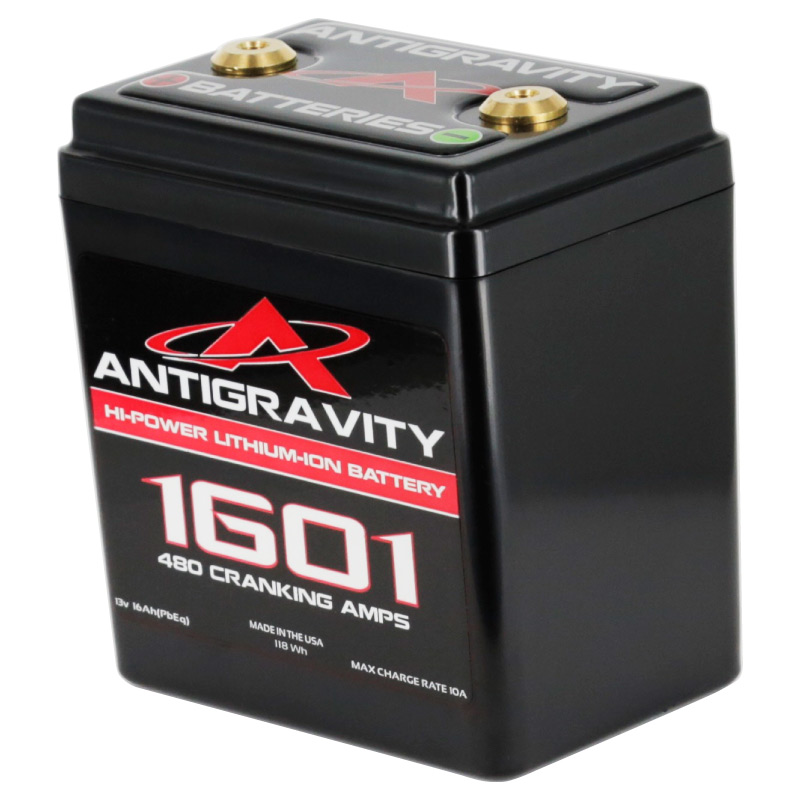 Ultra-Lightweight and High-Power Lithium-Ion Motorsport Battery.
Most Compact of Lithium Motorsports Batteries available (great for racers and custom builders).
Can hold a charge up to a year provided there are no "Parasitic Drains" (accessories that draw power when bike is off (i.e. alarms, ECUs, iPods, GPS, heated grips, etc).
Large all-brass terminal design.
Can be installed in any orientation.
No highly toxic materials like Acids or Lead.
No fluids to leak and damage the vehicle.
3-Year Limited Warranty.
Capable of every day use in bikes up to 1600cc.
Large V-Twin motors up to 1600cc (96 Cubic inch).
Race use bikes up to 2000cc (use may vary depending on modifications to motor and size of motor).
Race use in Cars up to 3500cc (use may vary depending on modifications to motor and size of motor).
Note: there is no BMS in the SMALL CASE Batteries, only Balance Charging. They are for closed course use only.
Only logged in customers who have purchased this product may leave a review.