We will be closed for the holidays from the 18th December until the 8th January. No orders will be processed between these dates.
Merry Christmas and Happy New Year to all.
Description
SIZE: 9″ x 3″ x 1.25″ (mm: 229x76x32)
WEIGHT: 18 oz (510 g)
INPUT: 14v 1A
OUTPUT: 2x USB (1x 5V 2.1A & 1x 5v 1A) 1x 12V 10A & 1x 19V 3.5A for laptops)
CAPACITY: 18 mAh
POWER: 300A Starting Current / 600A Peak
JUMPSTART: Gas Engines up to 7.3 Liter V8
FLASHLIGHT: Hi-Power LED
FULL CHARGING TIME: 5-6 hours
OPERATING TEMPERATURE: -20°C to 60°C
CASE SIZE: 10″ x 9.5″ x 1.5″ (mm:254x241x38)
MICRO-START XP-10
TOP RATED Lithium Jump-Starter Portable Power Supply
The Antigravity Batteries XP-10 is unrivaled for performance and quality in the mini jump-start segment. It was rated the #1 BEST JUMP STARTER. That says a tremendous amount about the quality and abilities of Antigravity Batteries products. See how Consumer Reports stacks us up against the competition. The Micro-Start XP10 Personal Power Supply (PPS) has a very high capacity of 18,000 mAh and up to 600 Peak Amps for massive starting capabilities! It has proven to be the go-to device for professional mechanics as well as everyday riders and travelers. Take us on your next adventure!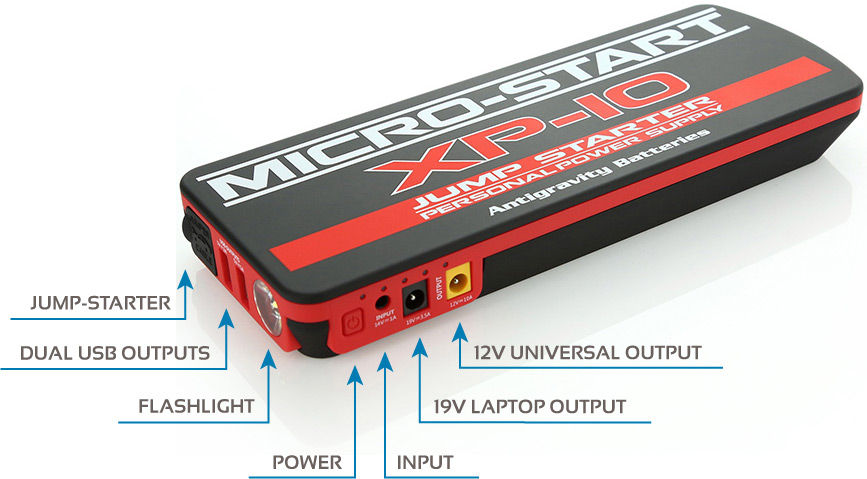 Jump-Start Port (not for charging)
5V USB Outputs (two)
LED Flashlight
Power Button
Input (to recharge XP10)
Capacity Lights (above input)
19V Output (for laptops)
12V Output
The XP-10 Micro-Start power supply is extremely lightweight and compact making it easy to take everywhere. So small it fits in your hand yet so powerful it can jump-start DIESEL vehicles up to 7.3L, as well as Gas engines.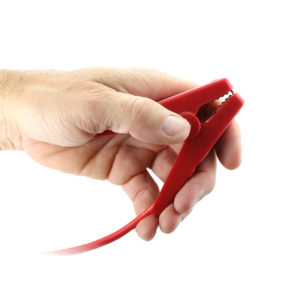 Intelligent Jump-Start Clamps feature multiple Safety Protections built-in. They prevent reverse polarity connection, over-charge, over-discharge, short-circuit and back-charge. Safely start Diesel or gas vehicles: cars, trucks, motorcycles, ATVs, UTVs, snowmobiles, other powersports vehicles, boats and other watercraft.
Whether you are riding, driving, camping or traveling, remain confident that you will be able to start your vehicle, make that important call, or get that last bit of work done. The multi-function XP-10 battery pack can charge a variety of electronic devices:
19V Laptops: includes 8 tips to connect to many laptop brands.
12V Devices: GPS, Mobile DVD Players, Small Fans, LED lighting and more.
USB Devices: Smartphones, Tablets, Cameras, Handheld Games, Music Players, Bluetooth devices…
Only logged in customers who have purchased this product may leave a review.