We will be closed for the holidays from the 18th December until the 8th January. No orders will be processed between these dates.
Merry Christmas and Happy New Year to all.
Description
The ALL NEW MICRO-START XP-20 and XP-20-HD are our latest and greatest Jump Starters/Personal Power Supply products yet!
They are simply the most powerful and compact Jump Starters in their class and offer unrivalled performance, features and quality.
Simply Charge them and take Portable Power and the ability to Jump Start your vehicles wherever you go.
Take us on your next adventure!

Some of the highlights of the NEW XP-20 are:

MASSIVE JUMP-START ABILITIES
____
YET MOST COMPACT IN ITS CLASS
The XP-20 can start most ANY Vehicle on the Road! Be it a big Diesel Pick-Up Truck, Commercial Bobtail Truck, UTVs, Boats, Generators,
or even a tiny 100cc Scooter the XP-20s will do it! But also note, the MICRO-START XP-20 is HALF the size of the leading Competitors Jump Starter.
That means it is easier to store and carry.
Both XP-20s offer the ability to start Diesels up to 8 Litres, and charge all your Electronics, with the HD providing a bit more Power and Capacity for more charging.

XP-20 CLAMPS
____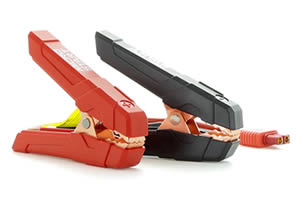 The included Jump-Start Clamps have a sturdy jaw and large wires for a strong clamping force, good connection to the vehicle's battery,
and better transfer of electrical current. Multiple Safety Protections are built into the XP-20 itself rather than the Clamps,
such as reverse polarity protection and reverse charge protection. Safely start Diesel or gas vehicles:
cars, trucks, motorcycles, ATVs, UTVs, snowmobiles, other powersports vehicles, boats and other watercraft.

HIGH SPEED CHARGING and RECHARGING
____
The XP-20s are the only Jump Starter to currently offer Type-C PD 100w Charging! With PD 100watts you can have the fastest charging available from a Jump Starter!
So with our unit you can quickly charge your Apple or Windows Laptops, Tablets, Phones or other Electronic Devices with the fastest Charging available.
ULTRA FAST RECHARGING of the XP-20s: By using the provided PD100w 12v Cig Lighter Charger the XP20s can RECHARGE in about 1 hour!
These are the fastest rechargeable units available. You can purchase a Type-C 100 Watt wall Charger as an option to charge your XP-20 from a 110v Household plug quickly.
Multiple Charging Ports for your Electronics!
> Type-C PD 100 Watt INPUT/OUTPUT Port
> USB-A (QC3.0) OUTPUT Port
> USB-A OUTPUT Port
> DC (15V/10A) OUTPUT Port – use for 12v devices

More XP-20 Features
____
> 240-Lumen LED Flashlight built-in with 3 beam modes (steady, strobe, SOS beacon).
> Automatic Power-Off when not in use; or you can turn it off manually.
> Built-in Protections for over-charge, over-discharge and more. Long battery life.
> Rechargeable Lithium Battery. Recharge the XP-20 with the provided cig lighter
Car Charger, or another USB output such as your phone charger or wall adapter.
> Top Quality Design, build-quality and safety features. UL listed battery cells.
Complete Kit
____
The Micro-Start XP-20 is incredibly simple to use. It comes in a durable zippered Carry Case with
EVERYTHING you need to Jump-Start your Vehicles and Charge your Electronics no matter where you are.
> 1 Micro-Start XP-20                                                                                                             
> 1 Carry Case                                                                                                                         
> 1 set of Jumper Clamps                                                                                                     
> 1 USB-C to USB-C Cable                                                                                                     
> 1 USB-A to USB-C Cable                                                                                                    
> 1 Cig Lighter Adapter                                                                                                        
> 1 SC100W Mobile/Car Charger                                                                                        
> 1 Instruction Manual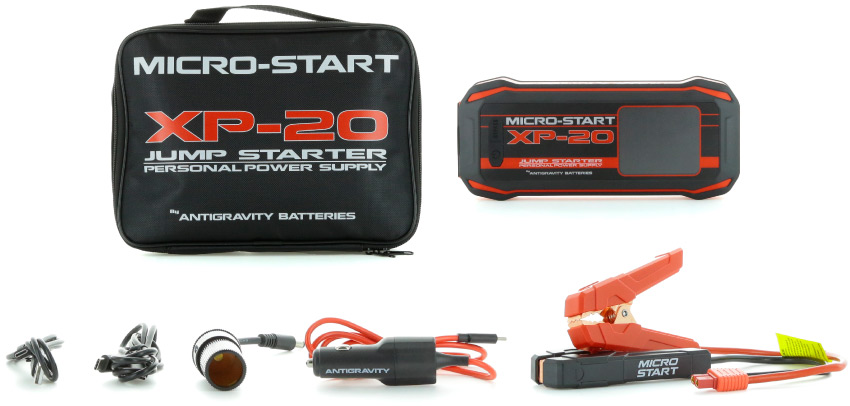 Only logged in customers who have purchased this product may leave a review.